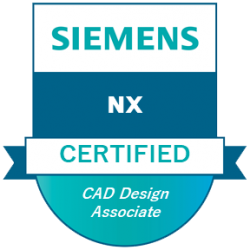 NX – CAD Design Associate
The NX CAD Design – Associate Level certification demonstrates core design skills in NX. The holder of this credential has a basic knowledge of the user interface, sketching tools and techniques, part, assembly and drawing creation. NX Certification enhances the competitive edge and reputation of both students and schools and provides an industry recognized credential that both students and educators can use to advance their careers.
Relevant Skills
Basic UI Proficiency
Knowledge of the most important NX commands, how they work, and their locations within their respective environments of the user interface.
2D Sketching Proficiency
The ability to create sketches and to give geometric and dimensional constraints in NX.
Basic 3D Modeling
The ability to create precise 3D models of prismatic and cylindrical parts from multi-view drawings.
Design Editing
Utilizing synchronous modeling to make a design change.
Simple Assembly
The skills and knowledge to locate and assemble multiple NX parts, using different assembly relationships and constraints, to achieve a final design as specified.
Drawing Layouts and Dimensioning
A basic understanding of drawing view types and view layouts in NX. Ability to read standard engineering drawings.
Analysis
Ability to accurately define design data that conforms to original design intent through measuring.
1 Required Steps
Pass the NX CAD Design Associate Exam